Cell Phone Repair Calgary - CaseMogul CrossIron Mills
CaseMogul Phone Repairs Calgary
CrossIron Mills
📍 CaseMogul CrossIron Mills
261055 Crossiron Blvd,
Rocky View County, Alberta, T4A 0G3

📧 info@casemogul.com
📱 (403) 408-6361
Our CrossIron Mills kiosk can accessed by Entrance 4. We are located conveniently besides Toys "R" US and Designer Shoe Warehouse.
Monday - Wednesday: 10:00AM - 8:00PM
Thursday - Saturday: 10:00AM - 9:00PM
Sunday: 11:00AM - 6:00PM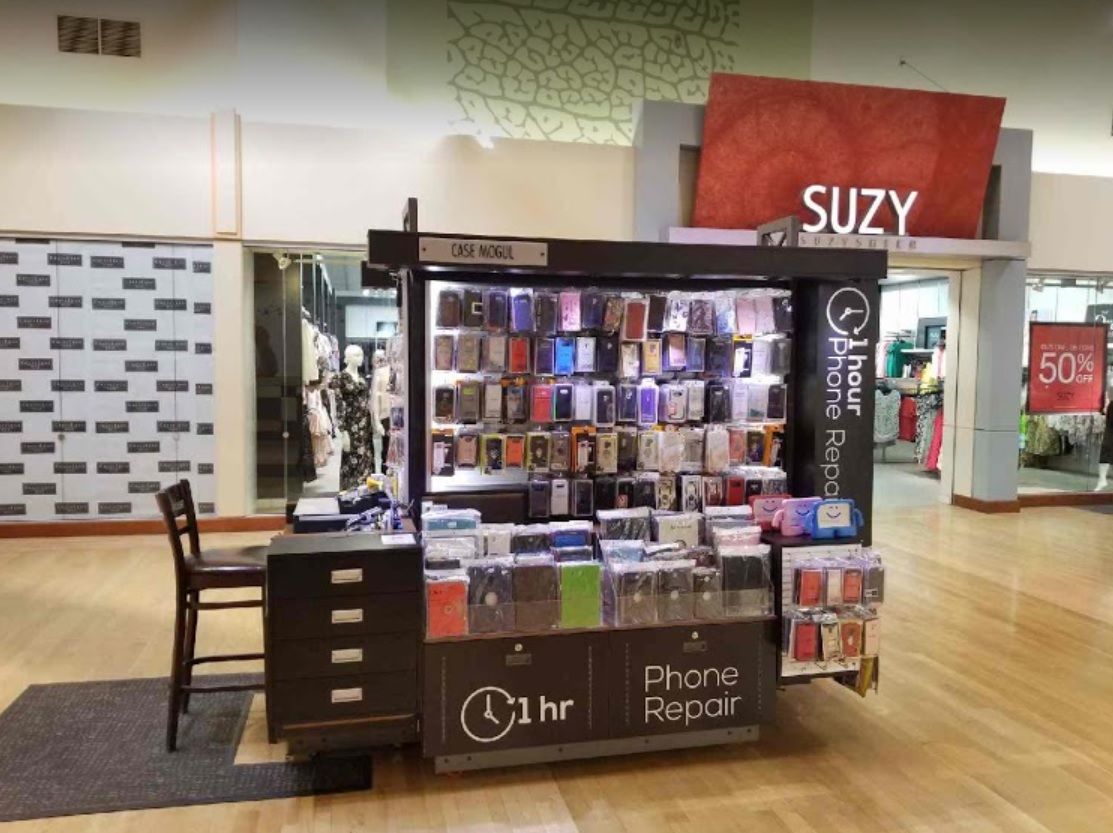 Cell Phone Repair Calgary - CaseMogul CrossIron Mills
Our Calgary cell phone repair shop delivers exceptional, quality phone repair services unmatched in the industry. From iPhone screen repair to iPad battery replacement, our team of technical, certified phone repair experts will repair your phone, tablet, or computer quickly and precisely.
We Can Repair Most iPhone, iPad, or Other Electronic Devices In Under 1 Hour
In today's highly digitized, fast-paced world, staying connected to our iPhone, Samsung phone, or Google Pixel phone is imperative to our lives. Understanding the necessity and importance of connecting to our cell phones in our daily lives, our team works diligently to repair your iPhone, Samsung, or iPad in under an hour.
Our Cell Phone, iPad/Tablet, and Desktop/Laptop and Other Electronic Repair Services
Experts in everything electronics, our team of diverse technicians specializes in different types of cell phone repair, tablet repair, and desktop or laptop repair. Together, we can repair all phone, iPad or tablet, or computer issues by offering unrivalled phone or iPad repair services such as:
Moreover, our team of technical phone repair technicians can repair all components of electronic devices including iPhone, iPad, desktop, or laptop. Our repair services include:
| | |
| --- | --- |
| | |
| | |
| | Water damage repair & data recovery  |
| | |
| | |
| | |
We Offer Phone Repair Services for All Makes and Models
Our team of technical phone repair experts can service all brands of phones, tablets or iPads, computers, and other electronic devices.
Examples of brands and phones we service include:
We Offer Unmatched Guarantees and Warranty
Limited Lifetime Warranty
When you choose CaseMogul, we want you to have total peace of mind. That's why we offer a Limited Lifetime Warranty* on our repair services. Bring your phone back for any parts related issues and we will do our best to fix it at no additional cost if covered under our warranty.
*Limited Lifetime Warranty applies to select repairs made solely by CaseMogul only. CaseMogul has the right to refuse any warranty claim due to, but not limited to customer action or inaction. The Limited Lifetime Warranty waives select repair costs only and does not include shipping to CaseMogul locations, replacement parts, or any other additional costs. Battery repairs, charging port repairs, and iPhone motherboard repairs carry a 90-day repair warranty. Conditions and terms may change without notice.
World Class Repair Know-How
We've received certifications from iPad Rehab, Fonekong and REWA representing some of the most premiere and leading edge ORIGINAL developers of much of the information that the global board repair community uses every day. We're able to fix issues and problems that many other repair shops are unable to fix. This means you can rest easy that we're equipped with the best technical knowledge to fix issues that other repair shops just couldn't do.
Free Diagnosis
We provide a free diagnosis and quote. If we can't repair it, you don't pay.
To save yourself a wait, let us know you are coming by calling our number above, or book an online appointment with this link and get $10 off your repair quote.
Check out our other Calgary phone repair shops for device repairs, custom phones cases, and other phone accessories
CaseMogul Phone Repairs Calgary - Bow Valley Square
205 5 Ave SW
Calgary, Alberta T2P 2V7
info@casemogul.com
(587) 316-3886

Our Bow Valley Square kiosk is located on the +15 Level, conveniently next to Rogers.

Opening Hours
Monday - Friday: 9:30AM - 3:30PM
Saturday & Sunday: Closed
CaseMogul Phone Repairs Calgary - Beltline Calgary
CaseMogul Store - 802 16 Ave SW
Calgary, Alberta, T2R 0S9
info@casemogul.com
(403) 351-2784

Our downtown Calgary Beltline store is located across the street from Shopper's Drug Mart. Look for the entrance on 16th Ave beside Kit and Ace.

Opening Hours
Monday - Sunday: 10:00AM - 4:00PM
CaseMogul Phone Repairs Calgary - Chinook Centre
6455 Macleod Trail SW
Calgary, Alberta, T2H 0K8
info@casemogul.com
(403) 456-6831

Our Chinook kiosk is located by Entrance 8 (by Nordstrom). You can find the kiosk on the 1st floor, located conveniently beside Rogers and TELUS.

Monday - Saturday: 10:00AM - 9:00PM
Sunday: 10:00AM - 6:00PM
CaseMogul Phone Repairs Calgary - Pacific Place Mall
999 36 St NE,
Calgary, Alberta, T2A 7X6
info@casemogul.com
(403) 800-6687

Our Pacific Place kiosk is located by directly in front of the T&T.
Monday - Thursday: 10:00AM - 8:00PM
Friday - Sunday: 10:00AM - 9:00PM
CaseMogul Phone Repairs Calgary - Marlborough Mall
Marlborough Mall
1161-3800 Memorial Dr
Calgary, AB, T2A 2K2
info@casemogul.com
(403) 800-9923

Our Marlborough store is close to Walmart, and is located conveniently next to the Dollarama.
Monday - Saturday: 10:00AM - 7:00PM
Sunday & Holidays: 11:00AM - 6:00PM
CaseMogul Phone Repairs Calgary - Market Mall
3625 Shaganappi Trail NW
Calgary, Alberta, T3A 0E2
info@casemogul.com
(587) 316-3896
Our Market Mall store is located conveniently beside the Food Court. The nearest entrance is E, by the BMO.

Monday - Friday: 10:00AM - 9:00PM
Saturday: 10:00AM - 8:00PM
Sunday: 10:00AM - 6:00PM
CaseMogul Phone Repairs Calgary - Southcentre Mall
100 Anderson Rd SE
Calgary, Alberta, T2J 3V1
info@casemogul.com
(403) 351-2766

Our Southcentre store is located convenient by Rogers and TELUS on the Lower Level. It can be accessed with the entrance at Sporting Life.

Monday - Wednesday: 10:00AM - 8:00PM
Thursday - Friday: 10:00AM - 9:00PM
Saturday: 10:00AM - 8:00PM
Sunday: 11:00AM - 6:00PM
CaseMogul Phone Repairs Calgary - CrossIron Mills
261055 Crossiron Blvd,
Rocky View County, Alberta, T4A 0G3
info@casemogul.com
(403) 408-6361

Our CrossIron Mills kiosk can accessed by Entrance 4. We are located conveniently besides Toys "R" US and Designer Shoe Warehouse.

Monday - Wednesday: 10:00AM - 8:00PM
Thursday - Saturday: 10:00AM - 9:00PM
Sunday: 11:00AM - 6:00PM